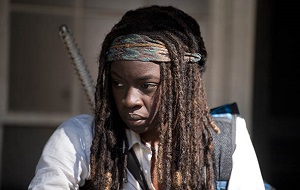 Here are a few random thoughts on The Walking Dead episode 411, "Claimed".
[Spoilers ahead.]
Abraham!
Abraham (comic spoiler!) was a huge fan favorite in the comic. If I remember correctly, he was the first character (at least the first that didn't almost immediately end up as a head-in-a-tank) with an active military background. The potential of a character who chose conflict as a career and who feels better equipped than those around him is a deep, deep well to plum. Abraham is also incredibly mission-focused, and it will be great to see what happens when he finds himself without a playbook.
I also happen to be a big fan of Michael Cudlitz from his starring role on the sadly underrated "Southland". He may not have the Hulk Hogan-esque bulk from the comic incarnation, but the actor clearly understands the character and has the acting chops to realize it. Casting has always been one of the show's greatest strengths.
I'm not as sold on Eugene or Rosita, but I'm sure they'll have ample opportunity to shine.
Michonne Opens Up
I loved seeing Michonne open up to Carl. It gives the audience insight into arguably the most popular character on the show and gives actress Danai Gurira a chance to exercise more than her frowny-face. I would have preferred that this sequence – her telling Carl about her lost son – occur before the flashbacks where we actually see him. I also appreciated the exchange between Michonne and Rick where she verbalizes her determination and commitment to her new family.
As somebody much more interested in being disturbed than being shocked I deeply appreciated the "pink room". I cringed at the implied back story and actually paused for a bit to discuss it with my lovely bride and not-so-lovely kids. I like a good action sequence as much as anybody, but it's the quiet and thoughtful moments that make you worry about people during them.
Wild Speculation!
Although it appears that the Abraham/Rostita/Eugene plot may survive mostly intact we're so far off script in so many other ways that there's really no telling what we may have in store for us. I'm leaning more and more towards a Rick and Michonne romance blossoming – and then dissolving just as quickly. I feel confident that Glen and Maggie will find each other but I'm also very worried that it will end up in heartache. I wouldn't put it past Kirkman (let's never forget, he is a bastard) to, for example, have them find each other just in time for one of them to watch the other die.
Finally, I've noticed a similarity between Rick and Glen's odd recoveries in the past few episodes. In both cases we have guys beat down to near death who pass out, comatose, for extended periods then wake up and do some heavy lifting. While there's no reason to assume something out of the ordinary, it did get me thinking: the virus reanimates the dead, of course, but why not more?
Might it not have some affect, perhaps even a positive one, on the living? Just something to mull over.