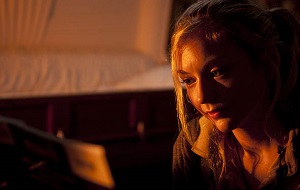 Here are a few random thoughts on The Walking Dead episode 413, "Alone".
[Spoilers ahead.]
It's Bob's Time to Shine!
I really enjoyed the opening flashback. Bob's wordless, melancholy march  provided a surreal backdrop to his remarkably effective survival tactics. Bob has been something of cardboard character so far: much more of a prop for others and trigger for events than a character in his own right. Sure, they gave him a drinking problem but that always felt like a simplistic off-the-shelf way to make an uninteresting person interesting.
In this episode Bob finally gets to say some things of his own. Who woulda thunk that Bob would end up the philosopher of the new group? His outlook on life is pretty damn refreshing for an apocalypse. Yes, Bob, it absolutely is better to be with someone than with no one. It was touch and go for a while, but getting him, Sasha and Maggie back together was definitely the right thing to do.
Daryl's Time to… not Shine.
The idea of a funeral home director still working after the zombie apocalypse – perhaps even more comfortable with the dead than with the living – is a great one. I would have bet money for several seconds there that the zombie prepared on the table was the owner of the house playing 'possom. I fully expected them to leave the room and for those eyes to open, but I was wrong.
Seeing a dog wandering around was nice as well – I've said it before but I'm surprised that we haven't seen more of them. Assuming they can survive biting a zombie (and, let's face it, maybe they can't) Dogs would make great defensive companions. Alternatively a pack of fast, intelligent feral dogs could create a significant challenge for a survivor used to shambling single-mindedness.
Yes, Daryl opened the door without looking first. I realize that this was to demonstrate that even a moment of distraction can be deadly in this world, but I also feel like the deck was stacked against him. A small herd of walkers – there was well over a dozen, at least – just happened to head straight for the front door of the house? This made the pristine state of the house even less understandable. It felt cheap and lazy.
What's Next?
However weak Daryl's clash with the unlikely walkers was, it did the job of splitting him and Beth up. I think it's pretty clear that whomever took Beth is associated with the funeral home so I'm tentatively optimistic about her safety. Daryl seems to be the one to worry about. It's been intimated before that he's a "chameleon" in that he takes on the traits of those around him. Now that he's with a group of clearly evil bastards will he devolve again?
With only a few episodes left in the season I feel confident that we won't get to see much of "Terminus" but, assuming that Glen drags his group with him as Maggie did, we have nearly everybody headed in that direction. I fully expect to see Beth and Daryl end up heading that way by the end, but I'm guessing that we'll be letting their story simmer next week as we catch up with Rick's, and maybe Glenn's, groups.