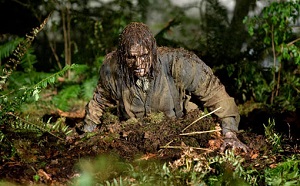 In "The Cabin in the Woods" a hapless group of attractive teenagers fall victim to a family of zombie sadists. Then other things happen that are incredibly cool, but I won't talk about but-really-you-should-watch-it-if-you-haven't-because-it's-awesome.
To be fair, however, the family in question – The Buckners – isn't really a zombie family. As it's pointed out in the movie: "Yes, you had 'Zombies.' But this is 'Zombie Redneck Torture Family.' Entirely separate thing. It's like the difference between an elephant and an elephant seal." Luckily our criteria here at MoreBrains.com is significantly less strict.
The Buckners worked together as a family in life, and then in death, to maim and murder for the exultation of the their faith (and because they really enjoyed it). Poppa, Mama, brothers Matthew and Judah and little sister Patience were wholly dedicated to what they felt was right. It wasn't – not even close – but that kind of dedication shouldn't go without some praise, at least.