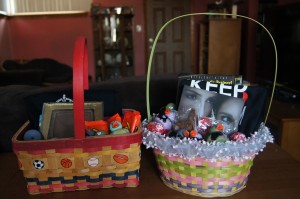 The baskets were big hits even if they were a little light this year. There was plenty of Platter's Chocolate; the very best kind of chocolate. It doesn't matter where we live or how much it costs: Platter's is worth it. My only complaint is that they haven't (yet) embraced the zombie movement so we're forced to deal with cute bunnies, but once you gnaw on them a while they fit in just fine.
My (twelve year old) daughter insisted on finding eggs, so we begrudgingly obliged and hid them. My 15 year old son did not insist on finding his eggs, but since his sister hid them without being asked, he kind of had to.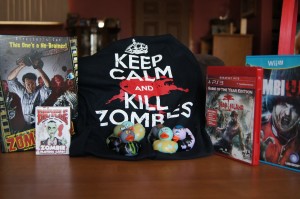 We raided the zombie aisle and have quite a few things to try out and review. Everybody got a "Keep Calm and Kill Zombies" t-shirt and a collection of zombie rubber ducks. There are a couple of new video games, Dead Island and ZombieU, mostly for the men-folk. Neither were reportedly very good, but they were bargain binners, so who cares? We also got a new tabletop game to try out: Zombies!!!. It's a long one (over two hours to play) and looks pretty complicated, so we'll probably save that for another day.
Lots to watch and do and play and eat and eat some more!