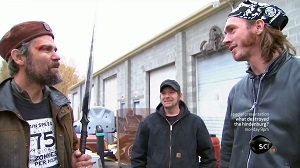 "Surviving Zombies: Apocalypse Field Guide" on the Science Channel
Educational –  2012 – Television Mini-series (Two Episodes)
I missed this when it first aired, but caught it recently. Although it didn't set the world on fire (get it, because it's about the apocalypse!) it's worth a watch. There are, after all, just two 30-minute episodes.
The show follows three buddies who happen to run a business designing and fabricating a truly lethal line of medieval weapons at their shop, Zombie Tools. They're all personable, clearly knowledgeable and different enough to be interesting. The show didn't last enough to let them get really comfortable, but they acquitted themselves well.
The guys are planning for the worst and, using a trio of shipping containers as a base, go about setting themselves up a survival bunker in the woods. While I may not agree with all of their choices, they did make an interesting build. Interspersed are shorter segments covering first aid, nutrition and other topics. They're all decent, but all hamstrung by time. With only 44 minutes total, there's just not enough of it.
The show ends long before the bunker is at all complete (we actually never even get to see the inside). There are a lot of plans, but no time for execution. More disappointingly no tests are ever performed. Most of the fun of playing zombie apocalypse, of course, is actually fighting zombies. It's a fun watch, but unfortunately more potential than execution.