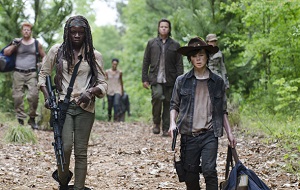 Here are a few random thoughts on The Walking Dead episode 502, "Strangers".
[Spoilers ahead.]
Less is More
One of the things I deeply love about this show is that it's often willing to forgo the obvious path, even if it would be very easy to take, and explore a different direction. The interaction between Tara and Rick and, later, Tara and Maggie epitomize this. Lazier writers would have taken the simple, expected path and created some noisy, simplistic strife from the situation. They would ignore all character development and all sense for this bit manufactured drama.
This show, instead, internalized the struggles of the past season, the growth of the characters and, basically, did nothing. We like Rick and Maggie and they responded to Tara exactly as we all hoped they would. Of course now that Tara's been fully accepted that likely means she'll be dead next episode. I hope not, but that's my prediction.
Tainted Meat!
Fans of the comics know that the show tends to mix-'n'-match characters and events from the comic into its similar, but drastically different story line. Iconic scenes will be worked into a new chronology or applied to new characters and favorite lines will make surprise appearances in unexpected circumstances. This is more than simple fan service: these are the favorite scenes that made the comic popular enough to turn into the show. Ignoring them would be like leaving money on the floor. Utterly cool, totally creepy money.
This leads us to Bob's current predicament, which comic fans are sure to note mirrors poor Dale's last days. Let's hope that Bob is able – even with his new motor-impairment – able to dodge Dale's sad fate, but something tells me that's not going to happen.
Still Looking Good, but…
While the current story line is clearly inspired by "The Hunters" comic story – which I love  – I do hope that they don't bog down the entire season with it. A couple of slow, scary Halloween episodes is great: 13 of them would be simply too much of a good thing. My hope is that the entire Terminus situation is completely cleared up within the next two episodes, if not in the next one. I'd love to see this season maintain the momentum that it's been able to build.
I failed to mention one of the best things of the season premier: Morgan's back! Although he's only appeared in a small number of episodes he's an absolute favorite. Fans of the comics know that Morgan was a significant figure and I hope that this is an indication that some of these stories are going to be adapted to the show.