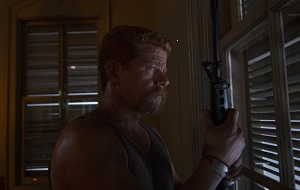 Here are a few random thoughts on The Walking Dead episode 503, "Four Walls and a Roof".
[Spoilers ahead.]
Glad to see the Termites Go
I was worried that Gareth and his Termites would become a season-long nemesis, and I'm glad that my worries were laid to rest with their hacked and bloody corpses. It's not that I really mind extended engagements, but after two seasons of  The Governor, I'm all for some good, old-fashioned (nearly) random roaming. The brutal death of the Termites reinforced, as I'm sure it was designed to, Rick's new-found resolve. It also, more subtly, reinforced Tyreese's evolving pacifism – something that, if handled correctly, could be intensely interesting, but could also devolve easily into cliche and tedium.
Splitting up… Again.
As a show ages, even one that tends to moves slowly like this one, there's a risk of repetition. Seeing Abraham's bargain split the group up – again – felt artificial. I found it unreasonable that a goal-driven individual like Abraham would demand such quick action – haste does make waste, after all. I would have thought that he'd have demanded at least some long-range testing of the newly repaired bus. At the very least some time spent gathering fuel for the beast – a bus like that would be lucky to get four or five miles per gallon.
Time spent in preparation, to a point at least, will vastly improve the mission's odds. Abraham's desire to leave as quickly  possible seems foolish and not in keeping with his character.
How does this Stuff  Really Work, Anyway?
Bob's bite provided significantly more questions than answers. The entire "Tainted meat!" sequence comes from a time in the comics when it was still believed that you needed to be bitten to become infected. The show has since confirmed that everybody is infected – and that anybody dying with an intact melon will return as a walker. After this revelation, the bites would appear to be secondary: more dangerous for the physical trauma (because somebody being eaten alive will likely die) than any transmission of the plague.
Of course getting bitten by a rotten mouth will likely introduce any number of normal bacterial (not viral) infections. These will likely cause high fevers and possibly even death, but are also treatable by washing the wound, keeping it clean and applying antibiotics. Did Bob die because none of that was done; because he hid his wound and allowed it to fester? Would it have helped if he hadn't?
Amputation of a bitten limb can prevent the transformation, as we've seen. This seems to treat a zombie bite more like that of a venomous snake or insect rather than a vector for a viral attack. It indicates that a bite site has some kind of "active agent" that needs to be removed to ensure survival. In this view a bite is a death sentence unless drastic action is taken almost immediately. But is amputation really needed? Would cauterizing the wound work as well (or better as the patient is saved from the trauma of the amputation)?
The show seems to enjoy its ambiguity here. It definitely gives the writers the freedom to do… whatever the hell they like, pretty much. The plague seems viral, then bacterial, then something completely differently all at once. I, for one, would appreciate some rules – but I suppose I'm in the minority on that score.