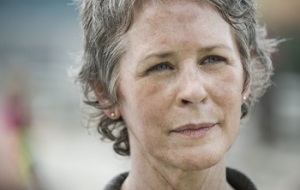 Here are a few random thoughts on The Walking Dead episode 506, "Consumed".
[Spoilers ahead.]
Carol Deserves More
When the episode started with Carol driving away from Rick after being banished from the prison I was really excited. I thought, this will be great: an entire episode dedicated to Carol's time apart from the group. We'll get to see how she survived, what she did to pass the time and deal with the loneliness. Did she look for others? Did she perchance befriend a strange volleyball?
It didn't turn out like that – instead we got a few all-to-brief flashbacks and that was it – but I still think it's a great idea. We have seen how some of our heroes have survived alone, or at least nearly alone. Carl's pudding adventure and Bob's truck sleeping come to mind. We've yet to see a truly deep exploration of this and I think this is a missed opportunity.
Two years after society has fallen apart it seems likely that many of the survivors may have decided, or been forced to, go it alone. How would these people survive? How could they stay sane? Would they stay sane, or are the wastes of the walking dead dotted with little Morgan-style fiefdoms of crazy?
Why are the Good Guys Always so Stupid?
It seems like our guys are always idiots – at least when the plot needs them to be. Out of all the people that we've met, Carol and Daryl are in the top three of those that you'd expect to be able to survive longest and best. Yet they continually make seemingly ridiculous decisions. Specifically:
Why did both of them go to the van at the same time? Why not let one sneak to the van to give it a once over while the other distracts the dead to prevent exactly what happened?
When does anybody in the apocalypse stuff their weapon and then their head, out into a space without looking first? Taking a peek? I'm sorry, but Carol and Daryl deserved to get robbed there.
Oh no! The bad guys must have heard us! Look, that's them driving around – let's try to sneak to the next building! Good plan guys, maybe – just maybe – you should glance in both directions before you run across the street? I'm not sure how to read this: does Carol have a death wish? That's all I can come up with.
The truly sad part about all of this is that there are so many ways that these things could have been done without making our heroes idiots. Carol could have fallen running away and been picked up by Donna's people. Noah could have set a trap for them, perhaps playing on their better sides (calling for help, then ambushing them).
Stop making our favorite people look bad, show! Just stop it!
Final Thoughts
One thing that I've been wondering about is exactly why all the cars have crosses on them? What's the purpose? On the one hand you might say that they're providing a half-assed kind of ambulance service – but who do they expect to see the symbols? Nobody can call them, they're never going to have to fight traffic. I think I would have been much happier with something a little more post-apocalyptic. A red flag tied to the antennae, maybe? Just simplify the whole thing and use actual ambulances?
Not much else to go on here. Great episode overall with two of my very favorite characters. Not looking forward to more of the hospital. I'm still hoping it's over soon and we can – finally – really get the band back together!