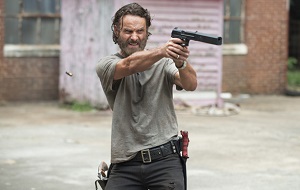 Here are a few random thoughts on The Walking Dead episode 507, "Crossed".
[Spoilers ahead.]
What's Gabriel's End Game?
Gabriel is legitimately thunderstruck by the invasion of the reality he's held at bay for so long. It's clear from the start that he's completely ill-equipped to deal with this world of the dead. Whenever he's forced to face it, he fails (and nearly dies). I can see why he would resent the group for challenging, and ultimately usurping, his self-delusional behavior but it still doesn't explain why he would rip up his floor and wander out into death world.
I suppose it drives home just how blind he's really become, but practically it felt completely out of character. I did love the return to the school and the continued cracking of the glass. Having this foreshadowed several episodes ago really confirmed, in a wonderfully subtle way, how far-sighted the show has become.
Still Not Liking the Hospital
I enjoyed the extended dynamics of the rescue party greatly, but still find the hospital annoying. The dual evolution of Rick is intensely interesting. On one hand, we see him relying more on advise and suggestions from those he trusts. This also demonstrates how close the group has become. On the other hand, we see him becoming less flexible with those outside the group; less willing to trust or accept.
As much as I like seeing the group work together to solve problems, it still irks that the problem they're trying to solve has to do with the hospital. How does Dawn retain power anyway? For that matter how many cops are in there anyway? Rick's group has three and at least two were killed previously. We've never seen more than a couple others.
The entire situation feels somehow half-assed. We're supposed to know that they have the capability and man-power to face our group, but actually being shown this would go a long way to making the situation more suspenseful.
Final Thoughts
The entire sequence with Glen, Tera and Rosita epitomizes why I love the show so much. It explores how people process extreme situations differently and how the clever can make the most of a situation. Tera has fast become one of my favorite characters and Rosita seems to be getting more depth than she enjoyed in the comics. Abraham's meditation was a little annoying, but seeing Maggie step up was nice.
My hope is that we get to see the last of the hospital next week and, finally, a complete reunion of the group.