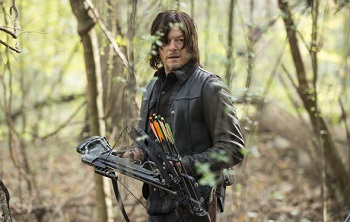 Here are a few random thoughts on The Walking Dead episode 515, "Try" and the season finale, Episode 516, "Conquer".
[Spoilers ahead.]
First, Let's Reminisce About the Past!
This has been a relatively slow season, similar to the second (the "farm season"), punctuated by powerful emotional moments. While that second season took a lot of flack for being too melodramatic, I think the show has been able to find a nice balance here. We get a good portion of in-depth character development, but also enough gore and action to sate nearly anybody. It is a shame that Rick didn't get any of that character development. Let's face it: he's been kind of a pill for kind of a while.
This season was hard on the cast, at least what's left of it. We lost Bob, Beth, Tyreese and Noah. For the most part we also lost them for no good reason. Preparation people! Let's see a little preparation! Their deaths were gut-punches to be sure, but tainted by the meaninglessness of them. It's also pretty clear that if you're a black man on this show: watch your butt. They got T-Dog and Oscar before, they got Bob, Tyreese and Noah this year. Morgan and Gabrielle: they're coming for you!
On the positive side, if you're a black woman you're pretty much immortal. Little girls, on the other hand… well, it's just plain open season on little girls.
Now, the Present!
These episodes were all about build-up, not pay-off. They took three fan favorites Rick, Glenn and Daryl and lathered on the tension so think you needed a chainsaw to slice it. For the greater part this was completely effective. There were moments where I feared for Daryl and Glen, although my predictions are still that Glen dies right after Maggie gets pregnant and Daryl dies rescuing Carol from something she shouldn't have been doing. Rick's build-up was less effective, as the likelihood of him leaving the show is so small. At the same time, how many heads would have exploded into tiny, little, bloody pieces had Rick actually died?
I loved seeing Morgan back and in top form. Still, he's one of the most interesting characters the show has ever created and I'm thrilled that we'll be seeing more of him. Although he's only been in a few episodes, they easily rank among the best. His character arc is nearly as extreme as Rick's and that's only what we've seen. Here's hoping we'll get a juicy flashback episode or two to flesh him out. I just hope they don't turn him into a cliched magical negro al a Bagger Vance or John Coffey.
The interaction between Sasha and Gabrielle was great, but I honestly was hoping to see Gabrielle die. He just irks me. Glen remains the most stable character. He also continually demonstrates – and I wish that somebody would mention this! – that Rick is wrong. You can survive without selling your soul. Carol's cold-bloodedness is still fun enough, but has the potential to get stale if overused. Her private scene with Pete was amazing. The sheer physical difference between the two made the scene incredibly powerful. As I said, Rick's become quite the pill and didn't throw us any surprises. His cold-bloodedness has been overused and is well beyond stale.
Finally, the Future!
Rick's point is made, but he simply enjoyed it too much. He's veered solidly into sociopath territory and the pendulum needs to swing the other way. Happily, I hope that's exactly what Morgan will be doing. His new love-life philosophy, again, could easily be overdone, but if played correctly he could be exactly the anchor that Rick needs. If not, perhaps, a Yoda to Rick's angry Luke, then at least a voice of freakin' reason that he'll actually listen too.
I'm not at all clear what to make of "The Wolves". It's difficult to determine what their end game is. If it's gathering supplies, they're going about it in an incredibly convoluted manner. If it's pure mayhem, well… same thing. They're trap is interesting, but not incredibly effective whether you're after prisoners (most of whom would die before hitting the car) or supplies (most of which would be torn apart by the walkers).
More importantly, how many of them are there? We've seen the "W" walkers all around Alexandria (which, again, has remained seemingly untouched and unaware), but the trailer-trap was, we were told, 50 miles away. Not far as the crow flies, but quite a distance, apocalypse-wise. We have to assume that Aaron and the other Alexandrian scavengers would have covered much all of the ground nearby for several miles, at least. Is there, like in the comics, some kind of protection deal in place?
Lastly, just a word on the new spin-off to premier in January, "Fear the Walking Dead". Really guys, Los Angeles? Did they think that not enough TV shows were set there or something? They should have used Boston. Get some seasons going. Walkers in the snow.