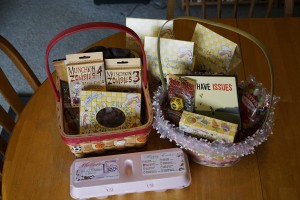 The baskets were light this year, but the kids are taller than us: the only reason they're getting baskets at all is because my lovely bride is a creature of habit. We, of course, ordered some Platter's Chocolate. It's hands down the best ever and as long as we can afford it, we're having it shipped in. Still no zombies from Platter's, but we've got fingers crossed for next year.
Tucked in the corners were some of their favorite candy and a few other goodies. Steve Jackson Games were well represented with the third expansion for Zombie Dice and a couple of expansion packs for the amazingly fun Munchkin Zombies.  Greg Stone's zombie books, Zombies Hate Stuff and Zombies Have Issues and some cool zombie T-shirts from Mountain rounded things out.
Sure, you may call this a bribe to guilt two sullen teenagers into spending some time with the rest of their family but… well, you'd be exactly right.