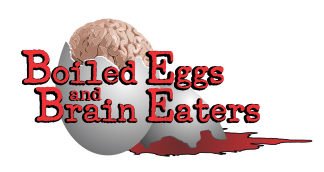 We're kicking off Boiled Eggs and Brain Eaters 2015 (tag: BEBE 2015)!  As usual, we got a late start, but that's one of the benefits – maybe the only one? – of creating your own holiday: you decide when it starts. In our case that's promptly at "whenever the hell we like."
Although our kids are too old for Easter baskets, our kids get Easter baskets and we'll have more on that later. It's just one of the manifold ways in which they are spoiled terribly rotten. As usual when they are unreasonably forced to spend more than 15 minutes with the rest of the family they are sullen and grumpy. Teenagers.
We're starting off with a movie that I've heard good things about: "Dead Season". Apparently it tries some new things with the genre and that's always a plus. We've got a few others selected and, as always, will be making way too much to eat. We'll be posting activities and mini-reviews throughout the day.  We"ll do full-length reviews of everything in the coming weeks, but for today, posts will be short so we can get back to the fun.