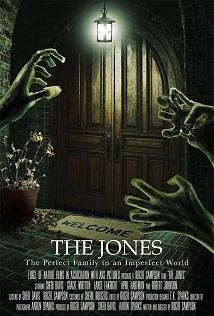 Horror – 2015 – 9 Minutes
Force of Nature Films has finished the second segment of their horror anthology, "The Forces of Horror Anthology Series Volume I". The first segment, "Revelations", was reviewed on our sister site, DepressedPressed.com, but this one is a Zombie story and belongs here.
[Full disclosure: this review was the result of a request from the writer/director of the movie.]
It is worth reading that first review as nearly everything applies to this segment as well. This is still a rock-bottom budget production. It's still got the same problems that a rock-bottom budget brings. And, like the first, it ends up much better than you'd expect.
Don't take our word for it, you can watch it right now:
Technically there are subtle, but noticeable, improvements over the first segment. Firstly, although the cast is still very small, there are more characters to work with and this allows for a more dynamic presentation. The effects are limited, but are all practical and effective. The acting is uneven, but definitely not as poor as the budget would normally attract. Camera work, staging and transitions are kept smartly simple. They may not be exciting, but they work well and opportunities for embarrassment are all but eliminated.
It's a simpler story than the first, and more approachable. Like any good short, it features a concise, complete story arc that introduces an interesting idea, then ends with you wanting more. The idea isn't particularly mind-blowing, but it is novel and, to our knowledge, original. It's an idea worth mulling over a bit after watching. It reminded us – and this isn't said lightly – of a classic "Twilight Zone" episode. Sure, maybe not the best Twilight Zone episode, but honestly: there were no bad 'Zones!
This is a definite improvement over an already impressive start. The team is clearly not rushing themselves on these and the care they're taking shows. We're excited to see more and thank the team for sharing them with us.