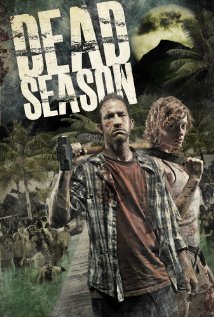 "Dead Season" on IMDB
Horror – 2012 – 85 Minutes
This film was a selection for BEBE 2015.
One of the casualties of the zombie popularity explosion is the traditional zombie movie. They're still out there, as this proves, but they've been shoved aside by a cavalcade of "zombie vs. things", rarely funny zom-coms, direct to television schlock and a much smaller, but forceful, selection of high-concept zombie flicks. Simple, serious stories about survivors in a world of the dead just don't seem to be in demand any longer.
Doing a good movie is never easy, but doing a decent, traditional zombie movie is absolutely easier than the alternatives. Comedy is hard; very hard. High concept is great when it works but pathetic when it fails (and it fails a lot). A good, old-fashioned zombie story? We all know know them and we all like them.
The story starts long after the dead have brought humanity to the brink. Elvis (played by Scott Peat [IMDB]) has become a professional survivor. He's turned his focus to looking for other survivors. Tweeter (Marissa Merrill [IMDB]) and the boy she's protecting find him and form an uneasy alliance. When food becomes scarce they take a long-shot: a boat to the supposed sanctuary of a Caribbean island. There, a small community struggles to survive both the dead and challenges that the island sets them.
The opening scenes are the strongest. In many ways they're more thought provoking than the effective, but predictable twist later. We're introduced to Elvis and his past and we  follow him as he wanders the ruins, scavenging. Small details are given significant thought and the care taken to introduce the world is obvious. The sequence is quiet and soulful and it sets the tone very well.
Technically the movie suffers for its budget, but not as badly as many. Simple, practical effects are used throughout and work well. Even poor practical effects beat crappy CGI, hands down. There's also some impressive audio work, considering the budget. The action sequences are the weakest element, overall, with fast cuts and jittery camera work standing-in for choreography. Thankfully, the script doesn't allow the relatively few action scenes to become a focus making their quality something of a moot point.
The script is smart and, as noted, a little predictable. Predictability is vastly preferable to the muddled mess that most movies create by trying to surprise the audience. Here, with a few unfortunate exceptions, people act reasonably and intelligently. Predictability is a small price to pay. Acting is hit-or-miss across the board, but the main characters, at least, are well handled.
The movie has flaws – the lack of budget sees to that – but it overcomes them to deliver a solid, traditional story. Good, old-fashioned zombie stories have become rare; this is a good, old-fashioned zombie story.