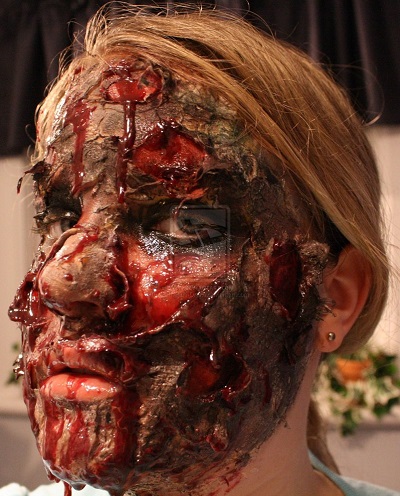 As we're perpetually running low on zombies to use for ZOTW here, we decided to take the easy way out for a few weeks and highlight some of the amazing zombie cosplay available over at DeviantArt.com.
This week is "Zombie Kat" by The-Katherinator.
Definitely one of the more gooey zombies we've seen. Must be a fresh kill. From the artist:
My very first attempt at zombie makeup! Took me about two hours to do, but I was filming my final makeup tutorial while doing so -thus adding more time.

Most of the excessive fake blood is something I made: Corn syrup, canola oil, flour, red and blue food coloring, and a tiny bit o black cream makeup.
(Disclaimer: Images are used gratefully, but without permission. We will strive to meet any requirements of rights holders.)