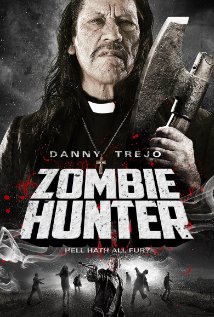 "Zombie Hunter" on IMDB
Horror – 2013 – 93 Minutes
This film was a selection for BEBE 2015.
There were only two reasons too watch this: 1) it has the word "zombie" in the title and 2) it has the words "Danny Trejo" above the title. Now having "zombie" in the title isn't exactly a hallmark of excellence. If anything, it's generally a sign of amateurishness. "Danny Trejo" doesn't really scream "quality" either, but does mean that you'll at least see some Danny Trejo.
Turns out, not all that much in this case. Even though he's plastered all over the poster, Trejo really only gets a couple of scenes. One of those scenes is so overladen with aggressively terrible CGI that you can barely see him. Everything else is dull and lifeless and wastes him completely.
The rest of the movie is a lumpy mash of genres and themes. Set years after a zombie outbreak, a terrible "Mad Max" clone drives through the wasteland killing the animate dead and recording ham-fisted narration. He's ambushed by a group of survivors and his car is totalled, forcing him to squint and grunt a lot. The group, made up of Trejo, a couple rednecks, a pole dancer, a hollywood-plain (meaning smoking hot) girl and a late-twenty something guy playing a teenager have apparently only survived until this point because the camera wasn't pointed at them.
Zombies attack their total lack of fortifications and, surprisingly, break through.  Then the aforementioned terrible CGI zombies attack and the group is forced to flee. They do this so well they make it all the way out of their movie and into the equally bad slasher movie. After spending some very predictable time in the slasher movie, the zombies catch up with them and other things happen.
By this point, nobody cared. Our advice, if you're stuck with this: fast forward to Trejo, then stop it after he leaves. It still won't be a good movie, but at least Trejo is never dull.