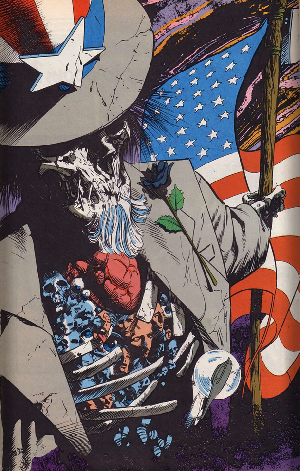 It's Flag Day in the U.S., the day were we celebrate all-things-our-specific-flag (not any old flag – not yours – ours!) Although Flag Day isn't an official federal holiday status, we happen live in Pennsylvania, the only state where it is an official state holiday.
Although another in our long line of "not technically zombie, but close enough" inductees, it seemed fitting to, on today of all days, celebrate the twisted love child of Peter Milligan and Chris Bachalo, The American Scream. Introduced in their seminal 1990 reboot of the classic Steve Ditko character Shade the Changing Man, it was the major foil for the initial story still available in the Shade The Changing Man: Volume One collection.
The American Scream represented the rampant madness of America. In its own words:
"And I am the American Scream. E Pluribus Unum, Out of Many, One… giver of voice and flesh to quiet screams of unquiet minds… and what quiet screams, what sly blisters of madness are lurking within you, Shade? Before I'm finished, you will be reduced to nothing but a mouth, no memory, no soul… a faceless, mindless mouth."
A character that wants to devour people's brains leaving them nothing but mindless mouths… sure as hell sounds like a zombie to us!