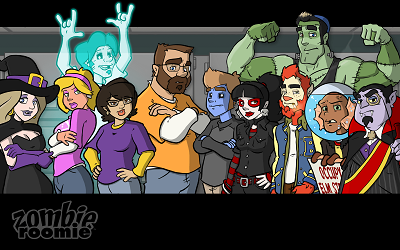 This week we celebrate George, the titular roomie in John Wigger's long-running web comic Zombie Roomie (he's the blue, dead one in the middle of the picture). Now in its seventh year of publication, the strip's cast has grown substantially since the beginning, on all fronts: living, dead, undead, cursed, reanimated and… ichthiad? The strip covers those many, down-to-Earth, everyday topics that everybody can related to, like the death (and sometimes resurrection) of pets and friends, dating (both the dead and the living) and the ups-and-downs of gay werewolf weddings.
Well, fine. Even if your life is so dully perfect that you can't relate directly, it's still a wonderful comic. Highly recommended.
This is the
116th
Zombie of the Week
; that's over two years of zombies! We are desperately running out of ideas! Please
contact us
with suggestions!