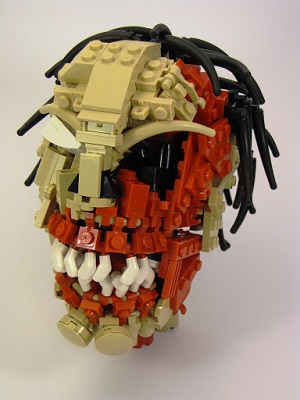 As we've been saying, finding new zombies for this feature is becoming more and more difficult as time goes on. We've been leaning heavily on themed series to carry us through.
We thought that we'd be able to find plenty of LEGO zombie creations and while there are a ton of minifig-based dioramas, we were surprised that the only real zombie sculpture we were able to find was this example from Chris Maddison (more shots on his Flickr page). In the words of the artist:
This past summer I got into The Walking Dead, and played through the game this past week. I figured I'd see what a walker looked like in Lego form. I learned that I have a lot to learn about sculpting the human head. I used "well, it's dead and rotting" as an excuse way too much for weaker areas.
Don't worry, Chris: we love your work! It's the best LEGO zombie that we've ever seen (despite being, you know, the only one).
This is the
127th
Zombie of the Week
; that's over two years of zombies! We are desperately running out of ideas! Please
contact us
with suggestions!