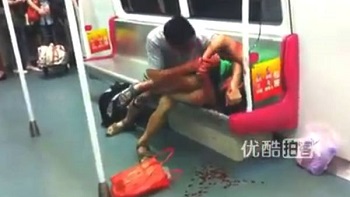 As the New York Times reports, China is now arresting people creating hoaxes on social media after a rash of scares. Apparently, in addition to a refrigerated alien in Shandong Province and a hairless, lemur-elf-thing in the Huairou District of Beijing there have been no less that two high profile zombie reports that have gained traction with the population.
In one case photos of a mummified corpse found by archaeologists was promoted as  evidence of a zombie outbreak. In a second case, photos from an apparent subway zombie attack of a woman in the city of Guangzhou were published. Some reports claim the photos were of an actual assault, while others pin them as stills from a low-budget movie. Whatever the case may be, the man who posted them as a zombie attack spent 10 days in prison.
The moral of the story is clear: if you get attacked by a zombie in China, you might want to keep it to yourself.