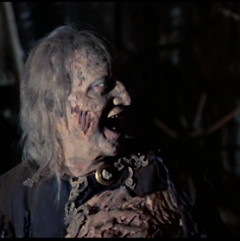 In our continued celebration of the upcoming Halloween premier of Ash vs Evil Dead, Zombie of the Week has been overrun by Deadites! We're bringing you our favorite Deadites from across the franchise!
Featured in Evil Dead 2, Henrietta was wife of Prof. Raymond Knowby, principle researcher of the Necronomicon Ex-Mortis. When he suggested that they spend a nice weekend up at the cabin, she jumped at the chance. Sure, he was taking a little work with him, but this would be a chance for them to work on their marriage and maybe rekindle their stagnant love affair. Nights by the fireplace, breakfast in bed and long walks in the woods. Instead, he decided to read aloud from the Book of the Dead.
Henrietta's first romantic getaway in years began with her being possessed by an ancient, primeval horror and ended with her being murdered by her husband and buried in the basement. Is it a surprise that she was a little cranky when Ash and his friends showed up and woke up her corpse? Isn't she the real victim here? Isn't she?!
This is the
130th
Zombie of the Week
; that's over two years of zombies! We are desperately running out of ideas! Please
contact us
with suggestions!