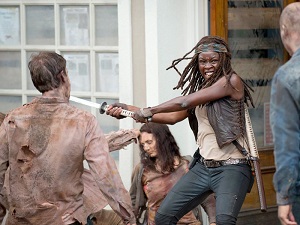 Here are  three random thoughts on The Walking Dead episode 603, "Thank You". This episode was a solid punch to the bean-bag in more ways than one.
[Spoilers ahead.]
This Show has a Big Problem with Scale
This show continues to have a huge problem with scale. Things are always as close or as far as the script needs with absolutely no sense or continuity. The quarry was close enough to Alexandria to "draw all the walkers", yet far enough away that nobody noticed them, yet close enough for Ron to walk to when he followed Rick and Morgan. When the walkers escaped the quarry the herd walked – very slowly – to the intersection prepared to divert them away and continued walking. Yet they were close enough to Alexandria to hear, loudly and clearly, the horn from one semi-truck. Yet the group was still far enough away from Alexandria to have walked – slowly, but much quicker than the walkers – long enough to get "a half hour ahead" of the herd and still only be half-way back home.
To hear the horn that loudly, they had to be close to home. Being generous, remembering that there's heavy forest and heavy southern humidity (both of which damped sound) between them, they had to be within a couple of miles, right? To run for as long as they did (even limping), they had to be far from home. Schrödinger's cat has nothing on these guys!
They seemed Pretty Damn Safe in the Pet Store, Didn't They?
Considering all of that, and the fact that we were told that the Michonne and Glenn's group were "a half hour ahead of the zombies", how far could the little town they found themselves in be from Alexandria? Perhaps a mile or less? That pet store seemed really comfy, didn't it? Already boarded up, dog beds for sleeping, stacks of dry food – a couple of injured people could survive there for weeks! Or for a few hours, while the strong, capable people run home very fast!
(Heck, there were any number of buildings they could have holed up in. If they wanted a view, a lot of them had sweet roofs!)
They'd come back with a car, or truck or something, draw away the zombies, rescue their friends and years later they'd all laugh about it! I'm all for "leave nobody behind", but in this case the safest plan for everybody seemed to be just that.
You're a Bastard, Kirkman!
Glenn's dead! For nothing!
Intellectually, I understand that heroic, meaningful deaths are rare and that Glenn's death, fraught as it was with underlying meaning, was  representative of the way that most good people go. Anybody that's watched a loved one lose themselves at the end of their life knows this. They don't get to go gracefully; they don't get to make a difference at the end. We regret this because of the amazing difference they made in life and cry out about the unfairness of it all.
My problem is that the show is starting to make a habit of this. Our favorite characters are continually making terrible, completely avoidable decisions that result in their deaths. Beth, Tyreese, Noah and now Glenn. It's got to stop!