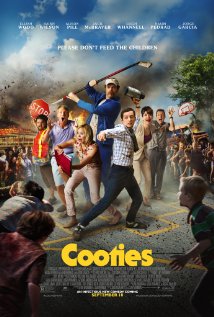 "Cooties" on IMDB
Horror/Comedy – 2014 – 88 Minutes
Zombie movies have often used infected children or infants to increase tension and create memorable moments (we've featured several previously as Zombies of the Week). Movies featuring homicidal children are pretty common as well (we've reviewed more than a few of those on our sister site, DepressedPress.com). It's manipulative to trot out the small versions of ourselves that our entire evolutionary history has convinced us not to kill (no matter how annoying they get) and create an "us or them" situation. It's manipulative, but effective.
Here we start with something of an adversarial relationship to begin with: teachers and students. Our hero is, specifically, substitute elementary school teacher Clint (Elijah Wood, playing exactly the same character he perfected in Wilfred) who's recently been forced to move back to his small home town after failing as a writer in New York City. He discovers that his high-school crush (Alison Pill, who is almost completely wasted) also works as a teacher and is dating the completely cliched, overbearing gym teacher (Rainn Wilson, playing Dwight Schrute from The Office). Jack McBrayer also plays, as always, himself.
After our intros, a troublesome morning and a lunch laden with foreshadowing, our teachers are made witness to a recess-of-bloody-death thanks to tainted chicken nuggets that turn all the children into mindless, ravenous cannibals. These scenes are played with enough humor to temper the reality, yet are still more than dark enough to amuse those with more twisted senses of humor. You may feel a little guilty about giggling when a school girl is knocked on her ass by a baseball cannon, but you'll still giggle anyway.
Unfortunately, despite the promising premise, the actual execution is more mediocre than inspired. The characters are simple and single-dimensional and the challenges they face predictable. There is often tension between the humor and the horror. Instead of the former emerging organically from the latter, transitions seemed forced and lacking rhythm leaving the audience off-balance. The ending, especially, feels forced and loses much of the silliness and fun of the early movie. It's first drawn-out, then truncated; as if the production just ran out of money (or interest).
It is a fun ride, despite the problems. There are definite high-points that had us laughing out loud, but the overall themes ultimately fail to gel. It has the makings of a great teen slumber party movie. It starts off very strong, but starts to slide at just about the time that the kids will start to goof off and ignore it. After that, there are enough interesting bits for them to look up from their phones for, but nothing so important that it will matter when they inevitably miss it.