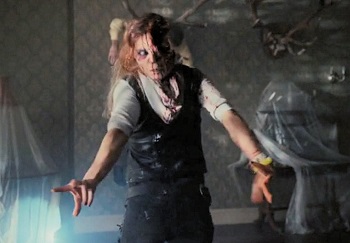 We complete our celebration of the premier of Ash vs Evil Dead! Zombie of the Week has been overrun by Deadites one last(?) time!
We have to end, obviously, with one of the deadites from the show's premier, so may we introduce you to… um… let's just call her "Tattoo Girl", I guess.
You see, Ash didn't tell us her name. He simply met her, got horribly wasted, decided in a fit of great-than-normal stupidity to read to her from Necronomicon Ex Mortis, then black out and forget any of it ever happened. While we suspect that in his day Ash has passed on his share of sexually transmitted diseases, we're pretty sure this girl was thinking the worst that could happen would be a visit to the clinic. Instead she was possessed by evil, had her spine snapped, her bones shattered and her head blown in tiny bits multiple times.
This is the
135th
Zombie of the Week
; that's over two years of zombies! We are desperately running out of ideas! Please
contact us
with suggestions!