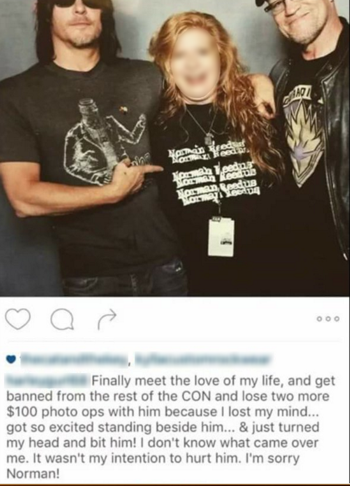 UnwalkingDead.com reported, rather succinctly, "Norman Reedus bitten by fan at Walker Stalker Con". Reedus, who plays Daryl Dixon on The Walking Dead, is known for his generosity with his fans. Even he has his limits. He draws at least one line, apparently, at allowing them to chew on him.
At the 2015 Walker Stalker Convention, the woman pictured paid for a photo opportunity with Reedus and Michael Rooker, who played his brother Merle on the show. When she got to the head of the line, she became overly excited, informed the star that she pretends she is married to him, then bit him. Presumably, although it's not specified, above the waist. The woman was escorted out by security and banned from the convention.
We hope this run-in with a real, um – live? – biter doesn't tarnish the thousands of positive interactions that he's graciously given to fans. We also hope that he doesn't turn.
This is the
140th
Zombie of the Week
; that's over two years of zombies! We are desperately running out of ideas! Please
contact us
with suggestions!