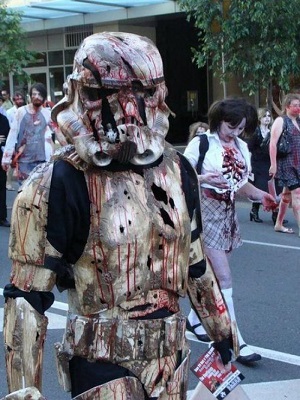 To celebrate the release of "Star Wars: The Force Awakens", Riotdaily has done a collection of zombie/Star Wars mashup cosplay. Although they're all worth seeing, we were most impressed by the effort that went into this mangled, bloody (but still mobile) zombie imperial stormtrooper.
We have yet to see the movie. As any smart zombiephile does, we stay far away from crowds just in case. Still, we can say with some confidence that J.J. Abrams failed to inject zombies into this chapter of the epic story. We thank these fans heartily for addressing his momentary lack of judgement!
This is the
142nd
Zombie of the Week
; that's nearly three years of zombies! We are desperately running out of ideas! Please
contact us
with suggestions!