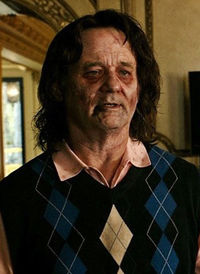 We celebrated the lovely (at least for a few minutes) 406 from Zombieland way back in May of 2013, but somehow never returned to celebrate the true zombie star of the movie: Bill Murray! The more pedantic among you might argue: "But he wasn't really a zombie; he was just pretending to be one!" The more pedantic among you can sit down and help yourselves to a big glass of shut-the-hell-up.
Murray may not have survived Columbus, but he'll (pretend to) not-live forever in our hearts.
This is the
145th
Zombie of the Week
; that's nearly three years of zombies! We are desperately running out of ideas! Please
contact us
with suggestions!