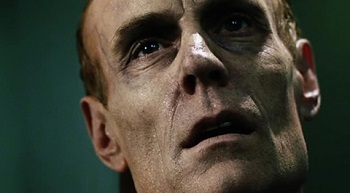 The 2004 remake of Dawn of the Dead was better than most would have anticipated. It even gave the 1978 original a run for its money at times. We've previously celebrated Andre and Luda's biting baby bundle, and this time want to focus on a smaller, but nonetheless impactful character: Frank.
The survivors in the mall have their first real test of conscience as a truck approaches, hounded by the dead. Although it's not unanimous, they decide to help and allow the new group into the mall. Among them are Frank (Matt Frewer) and his daughter Nicole (Lindy Booth). Frank's been bit. His last minutes of life with his daughter are the most emotional of the film. Then he turns and gets shot in the face.
We're huge fans of Frewer and feel that he's never achieved the success he deserved. He brings a meaningful sincerity to every role, no matter how small and, it so happens, just recently celebrated his 58th birthday! Here's to you, Mr. Frewer!
This is the
146th
Zombie of the Week
; that's nearly three years of zombies! We are desperately running out of ideas! Please
contact us
with suggestions!