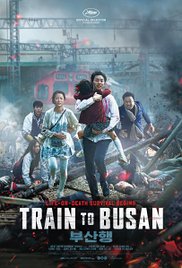 "Train to Busan" on IMDB
Horror/Action – 2016 – 118 Minutes
South Korea has been quietly, persistently producing amazing filmmakers for many years. Heavily influenced by American cinema, these creators have injected a much-needed dose of creativity and originality into many tired genres with action and horror benefiting especially. While the country's horror is most inspired by regional legends and myths, it should come as no surprise that zombies would eventually be tapped.
Seok-woo (Yoo Gong [IMDB]) is a workaholic who's neglected his daughter, Soo-an (Su-an Kim [IMDB]), once too often. In a poor attempt to make things up to her, he begrudgingly agrees to escort her, via train, from Seoul to Busan so that she can spend her birthday with her mother. Other passengers tick off various tropes on the roster: a selfish businessman, a pregnant woman and her hen-pecked husband, a high-school baseball team, a pair of elderly sisters and others.
When the stage is properly set, all hell breaks loose. Mechanically, the movie is similar to "28 Days Later" [IMDB]: an unknown sickness turns people into ravenous, rage-filled monsters shortly after they're bit. The zombies are fast, relentless and beautifully choreographed. Their movement, especially when in groups, is brutally effective and terrifying. The audience is kept further disoriented by a refreshing "verticality": stairs, upper-story windows and various other methods are used to draw attention in multiple, dizzying directions at once.
Nothing is said about the source of the infection. "Less is more" is the rule and nothing distracts from the breathless, non-stop race for survival. While this means that the characters aren't particularly deep, they are pleasantly consistent and true-to-life. Focus is given to the relationships that evolve as events force new responsibilities and dependencies on them. Father and daughter. Husband and wife. Sibling. Friend. It's surprising how quickly and strongly the audience empathizes with them.
This takes traditional "fast zombie" zombie tropes and, in a word, perfects them. It's impossible to heap enough praise upon it. It succeeds in all the ways "World War Z" [Our Review] failed and sets a new high watermark for outbreak films.