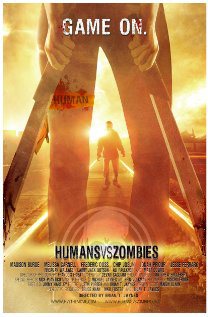 "Humans versus Zombies" on IMDB
Comedy/Horror –  2011 – 93 Minutes
[This review was originally published at our sister-site, DepressedPress.com on August 25, 2012.]
Jumping on the "this versus that" bandwagon with both feet this one seems to forget that the formula really only works if those things are not normally at odds.  So, for example, the following might work: "Aliens versus Pirates", "Ninjas versus Senators" or "Sled-dogs versus Dinosaurs" while the following probably won't: "Democrats versus Republicans", "Pretty Girls versus Pretty Girls" or "Cats versus Mice".  To be fair, apparently the title is taken from the live-action role-playing game the movie is based on… but that doesn't mean that we should have to suffer for it.
Making a movie about your hobby is a time-honored tradition – but you don't actually name the movie after the hobby. You know that movie I reviewed about caving a little while back?  It wasn't called "Caving", it was called "Sanctum."  We didn't get "Street Racing", we got "The Fast and the Furious".  Sylvester Stallone didn't star in "Boxing", "Rock Climbing" or "Arm Wrestling" he starred in "Rocky", "Cliff Hanger" and "Over the Top".  You see what I mean?
Off the top of my head this movie could have been called "Tag, You're Dead!", "Game Over" or "Press Z to Quit".  The most obvious is, of course, "HvZ".  The tagline would be "The game was only practice!"  See how easy that was?  And I only thought about it for a few minutes.
The movie itself?  It's bad, but for having a budget in the dozens of dollars it really wasn't all that bad.  If you can track it down and like the genre, give it a chance – just don't expect much.