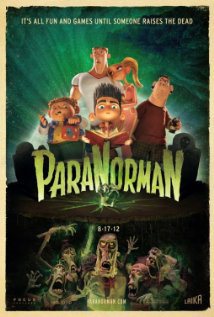 "Paranorman" on IMDB
Fantasy –  2012 – 92 Minutes
I went into this thinking "here's another throw-away family film".  Why wouldn't I?  All of the trailers played up the shtick and the silliness.  All of the posters played up the zombies and the crazy cast of supporting characters.  I thought, "here's a silly kids movie that I don't have to pay much attention to while digesting a nice big Christmas meal."
It did start off in that direction.  The first third of the movie introduces the characters with a healthy serving of one-liners (some even mildly risqué) and site-gags.  There's nothing here for kids to complain about.  As the movie progresses, it gains both significant momentum and a surprising gravitas that completely enthralled me.  The raw emotional impact of the final act was both surprising as hell and incredibly effective.
Norman's town is readying a celebration of their only claim to fame: the execution of a witch 300 years earlier who, so the story goes, cursed the town.  The story of the witch's curse has, in modern times led to the adoption of a cartoonish town mascot and several other witch-themed tourist attractions.  Even in a town where a centuries-old curse is a point of pride Norman is, to be charitable, odd.  He can, so he says, speak with the dead.  For this he's bullied, ridiculed and ostracized.  His family can't relate to him and he has no friends.
Unknown to Norman, special people in his family not only can speak to the dead but have been the only thing keeping the witch's spirit quiet by way of an annual ritual.  When the death of Norman's eccentric uncle interrupts the ritual the curse is released and Norman and his band of unlikely companions must deal with the raising of the dead, the unleashed mob-mentality of the town and ramifications of his gift.
It's difficult to describe the last act without spoiling the reveal, but it's both a complete surprise and completely reasonable.  The film slowly but deftly leaves the childlike gags behind and matures into an impressively charged horror movie.  The last 20-30 minutes are as emotionally draining as anything you could care to name while remaining completely accessible to its young audience.  It reminded me positively of the depth and respect for the audience that the best young adult franchises, like "Doctor Who", have.
It makes me so very happy when a movie rises above my preconceived notions of it and ends up revealing something more meaningful.  "Paranorman" is an excellent family film that hides within it a deep and thought provoking horror film.  It intelligently examines the cost of bullying, being different and fear of the unknown in a framework of compassionate empathy.  Its a surprising film and definitely not to be missed.