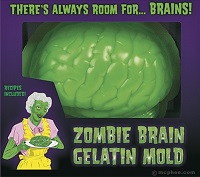 You may be surprised to know that there are actually quite a few brain-molds available.  After using this one for more than ten years I can promise you: this is the best of the bunch.  Most of the other available options are simply downright flimsy.  They'll tear, crumble and last maybe one or two times.  This one is solid, heavy plastic and will survive packing, moving and storage in the back of the cupboard.
Although "gelatin" is on the box this is more than strong enough to support whatever else you may want to toss at it.  Dough, chocolate, modeling clay, fudge – whatever.  It works well for ice and, if you're so minded, sand castles.
It would be nice if they made a right-hemisphere as well – this is only available in a left (or "sinister") model.  That's a request, not a complaint however.  I also wish that I could find an "overhead" version that's as well-constructed – half a brain is all you need most of the time, but sometimes only the whole thing really satisfies.
The Accoutrements Gelatin Brain Mold is available at Archie McPhee and Amazon.com.  Highly recommended.