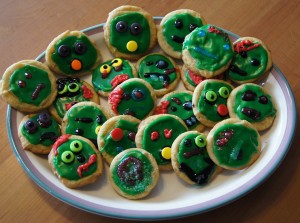 As we approach Boiled Eggs and Brain Eaters 2013 we'll be presenting some fun (and delicious) ways to celebrate.  First up is a simple, cheap activity that's fun for any kids you might have lying around.  In our case we dug up a couple of 10-year old girls to assist.
Materials for this include:
Some cookies to bake.  Any kind will do.  We just used pre-made, store bought sugar cookie dough.
Some green icing.  Get quite a bit as this will be your backdrop.
A bunch of cake decorating gel.  The kind you use to write "Happy Birthday" on cakes.  Only in this case you'll be drawing blood, brains, bile and rotten teeth.
Assorted candies for decoration.  We used Spree here; but M&M's are good too.  Wonka Nerds give a nice texture and crumbled Reese's Cups make a fine faux grave dirt.  Buy extra: there will likely be some consumption during the build process.
Some space and some patience – this will get messy!
First bake your cookies.  If you like (we didn't) you can mix some green food coloring into the dough for that extra bit of ghoulie.  Let them cool.  Ice them with the green icing and let that dry.  Lay the cookies and materials out on sheets of wax paper.
Now let the shorties loose!  Encourage them to be creative but remember the theme: no bunnies or smiley faces.  These are shambling, brain-hungry animated corpses!  Candy can make for a nice exposed eye-socket.  Blood should be drippy and plentiful (and tasty).  The odd premature bite can also be useful to expose brain-filled cranium.  Give them as long as they like – there's no rush.  Once they get done (or bored) set the cookies aside to dry for a bit; they should be nice and ready by the time you're done cleaning up.
Then eat them.  Before they eat you.