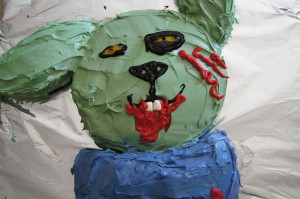 Alas, BEBE 2013 is over!  Our sixth movie will be our last and our last movie is always the only perfect zombie movie ever made, Shaun of the Dead.  Nobody doesn't like this movie.  Anybody you see that claims to dislike this movie either hasn't actually seen it or is some dirty hipster that's confusing contrarianism with being cool.  You may want to exacerbate things (whatever that means) until somebody has some red on them.
We also played a round of Zombie Fluxx.  Fluxx is a great little card name (in a variety of hilarious themes) where any card can dramatically change the rules.  Planning is useless since the end goal can change at any moment and kids love it because it's very, very likely that they'll hose their friends and family completely at least once a round.
Dinner is ham, baked sweet potatoes, carrots and hot dinner rolls with butter.  None of that has anything to do with zombies but they sure are nummy.  Nom nom, please!  Desert, on the other hand, is our concession to traditional Easter (with zombies): a chocolate zombie-bunny cake!
We hope that you had a great day with those you love and were able to fit in a little fun and games.  We also hope to see you here in 2014 which will mark the fifth anniversary of Boiled Eggs and Brain Eaters!