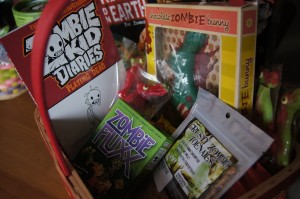 Alas, BEBE 2013, our fourth year, is over!  Six movies, three games and way, way too much food.  We simply ate significantly more than is recommended.  It was a great day and we enjoyed sharing it with you.
As a handy review let's see how we did according to the four rules of Boiled Eggs and Brain Eaters:
Watch Some Zombie Movies
Check!  Here's the final tally:
Eat Lots of Good Food
So very checked!  We ate way too much Platter's Chocolate, many ugly boiled eggs and had some zombie bunny cake.  To offset the sweets we also had a nice ham, potatoes, carrots and buttered rolls.  Really, we're quite stuffed.
Play Some Games
Checkity check!  We didn't play as much as we would have liked but we had fun with Zombie Bowling, Zombie Magnetic Poetry and Zombie Fluxx.  All great choices!
Spend Some Time with Those You Love
Check and checked.  This was best year ever.  The kids are old enough to watch pretty much anything and really participate and we didn't have any other commitments for once.  Almost a perfect day.
We hope that you had a great day with those you love and were able to fit in a little fun and games.  We also hope to see you here in 2014 which will mark the fifth anniversary of Boiled Eggs and Brain Eaters!