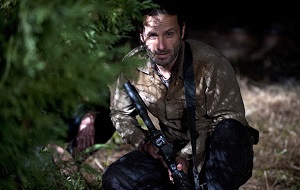 Here are a few random thoughts on The Walking Dead episode 316, "Welcome to the Tombs".  This was the season 3 finale.
[Spoilers ahead.]
Grenades.  A Great Big Box of Them.
One thing I kept flashing back to during the whole prison attack was the giant chest of grenades sitting all lonely and unused back at Morgan's.  Remember?  There had to be dozens of them.  There were at least three scenes where a single grenade could have taken out the majority of the governor's forces (they just kept bunching up so nicely!)
Grenades could have made amazing tripwire traps in the tombs or in the cellblock and could have been similarly been used to easily disable the vehicles.  Remember when Rick and Michonne left Morgan?  Remember how much room they had left in that car?  Plenty of room for grenades, eh?
The Tombs.
This felt odd to me.  They split up the attackers, draw them into the tombs and then… chase them back to their cars?  Why weren't they locked in the tombs or least the vehicles disabled?  Was the only thing that really saved Glen and Maggie the fact the the truck-mounted 50-cal. jammed and that Caesar forgot that he was carrying a grenade launcher?
The Prison
Again with the prison.  I discussed last week how crappy-stinky-shitty the prison in the show seems (understand that it was clearly worth fighting over in the comic).  Now, instead of moving everybody to Woodbury they're bringing everybody back to the prison?  They better spend the next few episodes showing us why this prison with it's newly demolished guard towers, wide-open ass-end and formerly solid fences is still worth bothering with.
Andrea, Carl and the Governor
I'm going to be annoyed about Andrea for a while but I'm also kind of surprised that we got off that easy.  I really thought Glen's proposal to Maggie last week had signed his death warrant.
I'm not thrilled with the direction they're taking Carl.  I know they're trying to create a warped sense of ethics for him but they vacillate in almost direct opposition with Rick.  When Rick was off his rocker Carl was pragmatic but accepting; now that Rick is back to his senses Carl is cold and his pragmatism has turned almost cruel.  With Rick they gave the audience insight to his character changes; with Carl we're not getting anything meaningful.
I wasn't thrilled with the resolution.  The governor losing it seemed a little too convenient.  I also would have preferred some closure on that front.  Leaving him wandering around irked me but I'm sure it was meant to.
So there are some random thoughts on the season finale!  More Walking Dead in October!