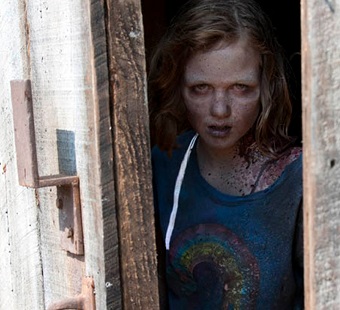 [Note that there will be spoilers here for season two of the The Walking Dead.  But if you're here and reading this then I think we can assume that you've seen it.]
The second season of The Walking Dead took a lot of heat.  It was slow, it headed squarely into soap-opera territory and it didn't make with the corpses like many fans wanted.  But oh lordy, lordy, that mid-season payoff.
The season focused heavily on two threads: Shane and Rick's fight over control of the group and the search for poor, lost Sophia.  We watched Shane's descent into madness and Carol's emotional break as hope for her daughter faded collide into the frenzied massacre of the dead in the barn.
As the dust settled and the enormity of their actions began to sink into the survivors little Sophia shambles out.  As the group sits in shocked inaction Rick cements his leadership role by doing what needs to be done.
Zombie Sophia was the solid, unforgiving gut-punch that the series needed to find its footing again.  It was also a stark reminder to the fans: nobody was safe.  Forget what you thought you knew (this hit fans of the comics, where Sophia is still counted among the living years-on, especially hard).  If we can turn this cute little girl into a walker then anything can happen.
Kirkman, you terrible, glorious bastard, you.