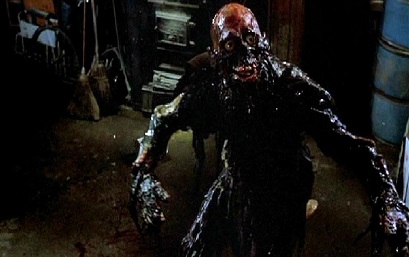 The 80's were a heyday of sorts for campy zombie movies.  Zombies were not yet popular enough to make any of the experimental stuff commercially viable and Dan O'Bannon didn't want to mimic George Romero.  Instead he made 1985's "The Return of the Dead" the prototype for the modern zombie comedy (or "Zom-com" for short).
Digital effects were still pretty terrible which didn't matter because they were too expensive for the budget.  Practical effects were the name of the game and Tarman was one of the most memorable.  Played to perfection by professional puppeteer (and naturally skeletal) Allan Trautman it's reported that most of the film effects budgets went into the creation of Tarman.
The design was meant to convey that immersion in the Zombie creating 2-4-5 Trioxin had melted away the zombie's skin and much of the musculature.  Trautman's slower, bent stance and spread limbs was his way of intimating that more traditional, upright movements might cause the eroded zombie to literally fall to pieces.
Tarman was so visually striking that even non-genre fans remember him.  The excellent visuals coupled with Trautman's truly disturbing movement created one of the most iconic zombies in modern film.