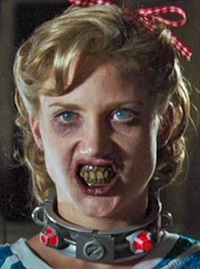 Fido [Our Review] is an under-appreciated classic. Not only was it excellently realized satire but it also gave us a ring of moppets signing, "In the brain and not the chest. Head shots are the very best!" in the school yard. In the film, mega-conglomerate ZomCon has tamed zombies for use as household servants via special (and very expensive) collars.
(The collars are, or course, foolproof… except when they're not.  In those situations please refer to the moppets.)
Anyway, there's Tammy!  Tammy (Sonja Bennett) is the, um… "servant" zombie of neighborhood oddball Mr. Theopolis (Tim Blake Nelson).  Oh Tammy! Your cloudy eyes, your bloodless lips, your rotten teeth and sloughing skin.  You're the kind of former girl that makes death worth… not living for!