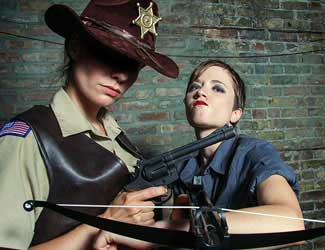 We're big fans of "The Walking Dead" here at MoreBrains but we have to concede that currently Maggie (the wonderful Lauren Cohan) is carrying the show almost totally by herself, at least boobs-wise.  Of course, it might be argued that a show about the fall of civilization due to a zombie outbreak doesn't really need boobs (hatchets, for example, seem to be more useful overall).
The Gorilla Tango Theater in Chicago disagrees. They have created a special night of ribald parody especially for (adult) zombie fans, "Boobs of the Dead: A Walking Dead Burlesque". From the theater site:
"The Sheriff awakes to find that a virus has taken over the world and has transformed the majority of Chicago into undead zombie burlesque dancers. Undeterred by this gruesome turn of events, Sheriff suits up, snags a sexy mount, and rides off in search of other survivors. Will Sheriff find Wife Lady before she bags Best Friend? Will Old Dude's Winnebago run out of gas at the exact. wrong. moment? Will Southern Guy's crossbow have enough endless bolts to get them all to the Chicago CDC? The answers to all these questions and more await you in this parody of the popular Walking Dead television series."
I can't say that the actual television show would be better or worse if, instead of regular-old zombies, the outbreak produced undead zombie burlesque dancers but I am willing to offer the benefit of the doubt.
Having been to a few burlesque shows in my time, this looks awesome. A good burlesque show is fun. The humor is adult and the cast is undeniably sexy, but the show isn't about sex (most, in fact, feature no actual nudity). It's about stomping your feet, acting goofy and, yes, the sublime titillation of the tease. Although I'll be sadly unable to see this in person, this looks like a very good burlesque show.