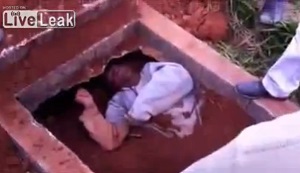 As being reported by bastions of journalistic integrity such as The Huffington Post, LiveLeak.com and The Daily Mail a former city hall worker in Sao Paulo, Brazil was brutally attacked, beaten unconscious and left for dead in the empty grave of a local cemetery. The assailants hurriedly covered the man with a loose layer of dirt allowing him to later break partially free. Because this man's horrific, life-altering tragedy is vaguely reminiscent of zombies the media, and MoreBrains.com, are going to treat it like a meaningless parlor trick done solely for our momentary amusement.
The man apparently startled a woman paying her respects nearby. She claimed, "I was terrified to see a man, who I thought was dead, trying to get out of the grave." She continued, "He had his head and hands out and was moving his arms around trying to get out." Naturally the woman rushed to him and attempted to provide what aid she could to her clearly distressed fellow human. She was immediately grabbed by the living corpse in a close-up, low-angled,crop-shot accompanied by trilling violins and bitten violently. This would begin a chain reaction that would change the world forever.
Just kidding! She ran away screaming. Then later called police who – fun fact! – ignored her thinking she was pranking them. She ended up having to return to the cemetery office to beg them to investigate and they, eventually, where able to get emergency services to respond and rescue the victim. He is now recovering in a local hospital where, to add insult to injury, a hospital source describes his condition as "coming back to life".