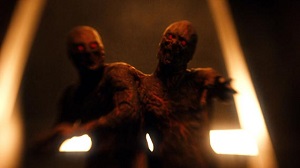 In our continuing celebration of Doctor Who's 50th anniversary – and yet another vigorous stretching of our definition of "zombie" – we bring you back – forward? – to the time when zombies from the core of the TARDIS made quite a nuisance of themselves.
Introduced in episode 11 of series Seven, these crackly, crumbly, cantankerous, creepy cryptids were said to be physical shadows of a rather nasty possible future for our heroes; one that saw them simultaneously liquefied and burned to a crisp (and sometimes, as pictured, melted together). These unfortunate ghosts snuck in through a leak in space-time to moan, shamble, be generally unpleasant and get handsy with our heroes.
Luckily, as is often the case when you have a time machine around, a clever way was found to not only get rid of the unwelcome guests but to also ensure that anybody that had previously been turned to critter kibble was just fine, now. Or then. Or later. Or whatever. Time travel is hard.