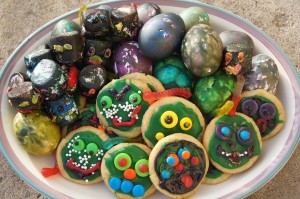 More BEBE 2014!  We've started our fourth movie, "Detention of the Dead", and so far, so good. Decent production values and a decent set-up. There's already been a few decent call-outs as well (the sign let's us know that they're in the "Savini Library").
ZombiU on the WiiU ended up being deeper and more thoughtful than we initially gave it credit. There's an interesting mechanic where, once you become infected and die, you begin nearby as another survivor. You can then go to your last location and put down your previous incarnation and reclaim your equipment. We're still not sure if the game has staying power, but so far its definitely bringing some new ideas to the table.
We also decided to put our favorite creations together and create the stickiest, sweetest zombie horde that you'll ever see! It includes the best of our ugly boiled eggs, the most gruesome zombie cookies and even some of those terrible marshmallow zombies that we made. We posed them all and took a few artsy shots.
That one plate is enough to terrify a dozen dentists!