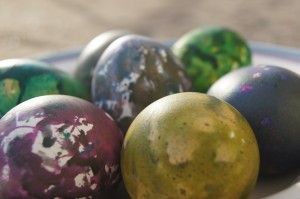 More BEBE 2014!  Our second movie, "Zombie Cheerleading Camp", wasn't… good. In fact it was very not good. There was an hour long (or at least it felt like an hour) fight with a stuffed squirrel.
Our third selection, "Rise of the Zombies", is a made for TV Asylum production. This usually means "terrible", but after the last one it's looking positively Oscar-worthy. It also features the hardest working man in show business, Danny Trejo!
The first "BE" in BEBE is "Boiled Eggs" so we got to work on them!  We first tried some traditional food-coloring and dye but the result were disappointing. We did the old trick where you draw on the egg with crayon, but they still came out just a little too festive. It didn't help that our lead shorty kept making them look so gosh-darned happy.
So we pulled out the the old Dudley's Spin an Egg from last year. We didn't have any of the dye that came with it but undiluted food-coloring seems to work pretty well.  The damn thing is still too hard to spin up and it's still really hard to get the lid on, but it did the trick. It did stop spinning after a few eggs – the spinner lost its whatzitmajigger – but it actually worked just as well, or better, when spun manually.  In any case we got a nice set of gross-looking eggs.
These have a really long dry-time and look like they'll remain messy for at least a few hours. We probably should have figured them out earlier.