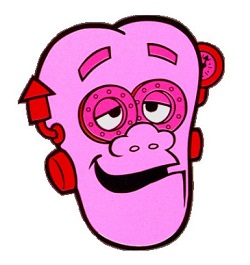 The debate on whether Frankenstein's creature is a zombie has raged for years. One of the problems with the debate is that there are so many completely different incarnations to consider. Sometimes the creature is a reanimated corpse; sometimes an amalgam of many. Sometimes it's a violent, mindless brute; sometimes an erudite, sorrowful soul. Sometimes it's just a man who can die again; sometimes an immortal with horrifying strength. Sometimes well-meaning but misunderstood; sometimes evil to the core.
So, I'm going to allow Frankenstein's unholy spawn into the ranks of zombies, if only in an honorary sense. Hell folks, if Kermit the Frog can get an honorary doctorate, I can say Frankenstein's monster is a zombie. Besides, I'm well into the second year of "Zombie of the Week" and am running out of ideas.
So, I'll be spending the next few weeks running down some of my very favorite Frankenstein monsters. Who better to start with than the one who started it all? The archetypal example of the breed? The most famous one of all… Frankenberry!
I'm sorry. That was immature. I promise that I'll be serious next time.