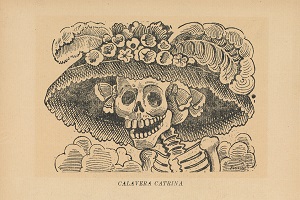 We approach a new and radical expansion of our ever loosening definition of "Zombie" today, but it's just impossible to pass up making a Day of the Dead reference on the Day of the Dead. So, today, we induct La Calavera Catrina into the illustrious halls of the Zombie of the Week.
Catrina was created in the early 1900's by famed illustrator José Guadalupe Posada. Originally intended as social satire of Mexican natives who were eager to adopt European styles and traditions in the pre-revolutionary era. The character, called the "Dapper Skeleton", was essentially lost until the 1930's when Posada's work was reissued posthumously.
Artist Diego Rivera used the character in his 1948 work "Sueño de una tarde dominical en la Alameda Central" (Dream of a Sunday afternoon along Central Alameda), a mural and historic landmark in Mexico City. The character's popularity exploded after this and she is now the de facto mascot for The Day of the Dead.
You can see more of Rivera's amazing collection of  work, and explore similar artists, at Artsy's Diego Rivera Page (thanks to Anthony for the reference).