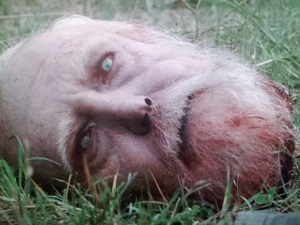 In case you're still catching up with "The Walking Dead" this is what might be called a "spoiler". If you're happily working through the past seasons and wondering how things work out with that nice old man on the farm… sorry.
He gets his head cut off with a sword by a megalomaniac.
Herschel's decapitation is one of the most poignant moments in the entire series. It was also a bit of a reminder, if the Governor's fish-tanks weren't enough, that have to destroy the brain – not just remove it from the body – to truly put down the walking dead.