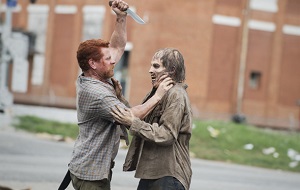 Here are a few random thoughts on The Walking Dead episode 505, "Self Help".
[Spoilers ahead.]
Abraham, What Did you Do?!
I feel like we didn't get the whole story with Abraham. I understand that beating a few people to death with canned beans can be traumatic, but is it really traumatic enough for his wife to run away into a zombie apocalypse with two small children and no protection? If what Abraham said was true – that the men he killed "raped his family" (and the exact connotation of what that means is pretty damn disturbing) – I can see his wife being horrified at the brutality of his actions, but not so much that she would run away from him the absolute first chance that she got.
Is that really the whole story? If so, I question the quality of the story telling, if not (and I hope that this is the case) there's a deeper well to plumb here. I wonder if the real story isn't more of a mirror, or shadow, of Rick's own. Does Abraham have a history of violence (it certainly seems to be something he relies on)? Could his wife have left with the neighbors both to escape the dead and him? Is the phrase "raped my family" more metaphorical than it seems and his actions were to punish perceived home-wreckers, not actual rapists? At the very least, this would explain the behavior of his wife much better than the story we were given.
Eugene Needs to Read a Room
If there's one thing that we clearly know about Eugene now, it's that he does not know when to shut his pie-hole. In fact, the show's Eugene – much more so than the comic version – strikes me as falling somewhere on the "high functioning" end of the autism spectrum. It's not just his lack of social skills or ability to relate to those around him; he's also portrayed with many of the physical attributes common to sufferers. The rigidness of his torso when he walks, for example, and lack of free-swinging arm movement. His placid expression and intellectual, but not emotional grasp of situations. I'm sure everybody would agree that Eugene is "odd", but I'd take that one step further and say that he's "diagnosable".
Fans of the comic have been waiting for this reveal sine we first saw the trio. One of the great things about the show is that you never know when it will decide to veer from script. There was always a chance that TV Show Eugene was a scientist even when Comic Book Eugene was full of shit. So while the reveal didn't come as a surprise, it was far from guaranteed.
In any case, he still should have shut his face-trap  and given people a moment to assimilate what he was saying. Prodding Abraham that one last time was, to put it mildly, a mistake. There was some speculation that Abraham actually killed Eugene at that point. I don't think he did, but I can't say it wouldn't have made things more interesting, at least for a little while, if he had. One of the recurring themes of the show has been punishment in the land of the dead, and this might have  been a great example of that. How do you punish a cold-blooded murder – even when, as in this case, it's arguably justifiable  – when life and limb are not at risk? Would Abraham even allow the topic of punishment to be raised? Would he submit?
I don't think we're going to see this, but it would have been interesting.
Final Thoughts
I'm confused about Abraham's penchant for giant, slow-moving, gas guzzling vehicles. I can understand keeping the military truck – that's what he knew. But the bus, even in top condition, would get five or six miles per gallon and the fire truck less than four in the best of cases. Fire trucks are short-range vehicles. They generally top out at about 150 miles per tank of gas. My wife's minivan easily doubles that and would have easily carried the group. It seems that fuel for it would be far more easy to scrounge than the diesel needed by Abraham's choices. Better yet, two minivans would give the group significantly more versatility and a fallback position should one crap out. Multiple SUV's would seem to provide more balance between resource use and capability (just because most of them never drive off-road, doesn't mean they can't).
As cool at the fire-hose scene was, it seemed odd that it would "kill" all the walkers. I know, we saw body parts flying and so forth, but would that really enough to keep them down? Permanently? I don't think so. I know the intention is to reinforce the passage of time, the idea that the "original dead" have spent a couple of years rotting and are getting weaker and more fragile. Still, after being knocked over by a pressure hose I would have expected to see a pile of sodden, writhing, easy to finish-off walkers, not a clean sweep.
The walker herd, seen from afar at the slaughterhouse, reminded me of a plotline that  I would truly like to see: how would the survivors handle a herd? This would need to be after they get settled someplace again, someplace worth fighting for, but I think it would be an amazing multi-episode arc. The herd would be encountered by scavenger teams days or even weeks before it would reach the new base. The group would struggle with preparations, attempts to divert or destroy it and finally, possibly, a siege situation.
We're definitely moving into the era, one the comic has been in for a while, where the dead recede to a background threat as groups of survivors defend themselves against one another. There's a lot of possibilities there, but I think that the dead have at least one more big, glorious story in them.