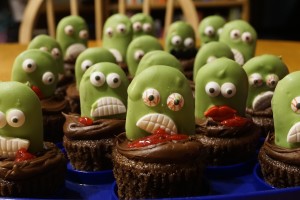 So, the idea here is: zombies crawling from their graves. It didn't completely work out that way… but the results have a lot of potential and are still delicious so we're considering this a success!
Materials include:
Cupcakes. Just buy a box and follow the recipe.
Chocolate Frosting.
Pepperidge Farm Milano cookies.
Some green melting chocolate.
Some decorations or icing pens or whatever you like.
First bake your cupcakes and frost them. These are the "Graves" that your zombies will be bursting forth from. If you have the option, larger cupcakes are likely better; we found ours a bit small to work with. Then melt your chocolate in a microwave or double boiler, whichever you prefer. Now you're going to coat your cookies. We screwed this up royally, then hit upon a much better solution.
At first our plan was to dip the cookies into the chocolate halfway, decorate then stuff the un-dipped end into the cupcake. Of course, as you might imagine, all this did was spilt the cupcake down the middle. Instead we evolved to just dunking the whole cookie into the chocolate. Use a fork to lift it out and let it dry on a rack. This will prevent the chocolate from puddling. After the chocolate dries, just cut the cookie in half to get two short zombies, or just cut a third off to get tall zombies and a lot of tasty cookie butts that can be eaten immediately.
The brains were made with the leftover chocolate using a silicon brain ice-cube form we had laying around.
Decorate the zombies however you like. We inserted candy eyes and mouths while the chocolate was still warm and used cake decorating pens for the details. Once the chocolate is cool and solid, you can stick your new zombies on their graves: the icing enough to hold them in place.
Using a sheet-cake instead of cupcakes is also an option. Note that if you use white chocolate (perhaps made a little grey) the same technique can be used to make excellent looking grave stones.