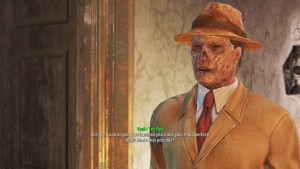 We've been playing Fallout 4 on the PlayStation 4 since its release on November 10th (you can follow our playthrough diary at our sister site, DepressedPress.com). We celebrated its new, more aggressive ghouls a few days later on November 15th. But what about the many interesting ghouls that don't want to immediately chew your face off? This series is for them!
Minor spoilers ahead!
First up, meet your friendly neighborhood Vault-Tec rep. He's one of the first characters you meet in 2077 and it's a good thing: moments after he signs you and your family up for the local vault nuclear hell breaks out. You make it to the vault just in time to see this dedicated company man get refused entry.
200 years later – years that you spent blissfully unaware in cryogenic suspension – you'll come across the poor sap all miserable and ghoulified. He's a little hostile and depressing at first, but if you're patient you can offer him a job as a salesman in one of your settlements. This will perk him up tremendously.
This is the
147th
Zombie of the Week
; that's nearly three years of zombies! We are desperately running out of ideas! Please
contact us
with suggestions!